FROM PREGNANCY TO PEDIATRICS
FOR ALL OF LIFE'S CHANGES, LET US HELP YOU.
PRECISE CARE
With a Gentle Touch
Our mission is to be the best Fountain City chiropractor and to adjust, educate, and empower families in our community toward optimal health and wellness. We are a family-based chiropractic care clinic aimed at providing natural healing for you and your children.
At Foundations Chiropractic we do things differently and we're PROUD of that!  Our patients rave about our thorough examination process and our ability to locate the root cause of their problems with our state-of-the-art digital x-ray and thermography scans.  When it comes to your health, we don't do any guessing!  We've cared for over 3000 people in the last 5 years and have developed an excellent reputation based on referrals and RESULTS! 
There's more good news! We make it easy for you to experience the same great results as our 3000+ patients. A quick click on the "Schedule Now" button is all it takes to get you started. One of our staff will get back to you with a convenient time for you to come in for your consultation, examination and any necessary x-ray studies.  We look forward to caring for you, your family and friends!
Chiropractor Fountain City WI
---
The reason so many people flourish under chiropractic care is because the adjustment to the spine allows the nerve roots inside to send orders between the brain and the body at 100%.  If a vertebra twists, sticks or degenerates, the delicate nerve tissue inside becomes irritated and the orders become incomplete or interrupted. When that happens there's no chance the organ can function right! Correcting this problem (called Subluxation) is what allows our patients to notice improvements in immunity, energy, sleep and mood. 
---
When you visit our office, you'll notice that we take care of all types and ages of people from fresh babies to those in their golden years.  We've cared for people with a variety of conditions from colic and chronic ear infections to sports injuries, disc, and degenerative issues and autoimmune diseases.  Our patients love how they FEEL and FUNCTION when their spine and nervous system are working properly!
We serve patients from all over Western Wisconsin and Southeastern Minnesota. In fact, our patient base is about 50:50 WI:MN.  Our office is in the old Spur Station building at the junction of Hwy 35/54, directly off the Interstate bridge.  You can't miss us!
---
Dr. Sam is a native of Fountain City so deciding to open a practice here was an easy choice. Nothing compares to the towering bluffs and blanket of green that covers western Wisconsin!  Dr. Kyle was quick to fall in love with the area so we decided to open our doors here in 2014. Since then we have quickly become regarded as the area's premier chiropractic practice.
OFFICE HOURS
---
Monday
8:30am - 11:30am
2:00pm - 5:30pm
---
Tuesday
7:00am - 11:00am
---
Wednesday
8:30am - 11:30am
2:00pm - 5:30pm
---
Thursday
8:30am - 11:30am
2:00pm - 5:30pm
---
Friday
Closed
---
Saturday
Closed
---
Sunday
Closed
HOW TO FIND A CHIROPRACTOR IN Fountain City
This guide will help you find the best chiropractic clinic in Fountain City for you. When most people in Fountain City decide they need a chiropractor, they end up doing a search and just picking someone at the top.
Being at the top of Google for the chiropractic search does not necessarily mean they are the best chiropractor for you. Follow the steps below to make sure you are picking the right chiropractor for you.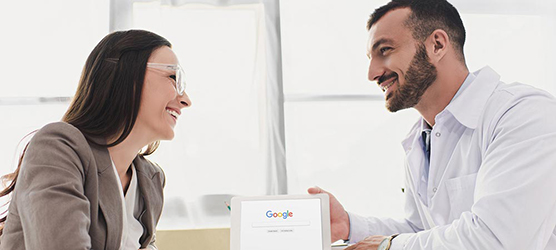 Time Needed: 5 minutes
Total Cost: USD 0.00
4 EASY STEPS TO FINDING A CHIROPRACTOR IN Fountain City
Step 1: Open up a Google search
You will want to type one of the following in the search bar:
Chiropractor Fountain City
Chiropractor 54629
Chiropractor near me
Best chiropractor in Fountain City

Step 2: Review Their Website
The best chiropractors in Fountain City put as much care into their website as they do into the rest of their office. By reviewing their website you will get a good feel for the doctor and if they are right for you.

Step 3: Check Out Their Reviews
Check out the Google Business Page of a chiropractic clinic you are thinking about visiting. It is easy for someone to say they are great, it's a different story to get other people to say great things about you.

Step 4: Give The Office A Call
Now that you have a basic understanding of what the office is about. Give them a call to make sure they fit the message that their website and GMB have been sending. You will know in a few minutes whether the office is the right one for you.

Components of the Gonstead System
Frequently Asked Questions About
Chiropractors in Fountain City
Chiropractors deliver very specific and gentle adjustments to the spine, which increase mobility and circulation but most importantly, decrease irritation and stimulate the Nervous System.  When the Nervous System is free from irritation the brain and the body are able to communicate clearly which allows the body to heal and function as it was designed to!
During an adjustment, the spine may make an audible "popping" noise.  This is simply the formation of an air bubble(s) as the joint is compressed. Some people have very noisy joints and some make no noise at all.  The doctor's hands are well trained to determine the effectiveness of the adjustment and therefore put little to no emphasis on any noise from the spine.
Our office currently accepts insurance. For your specific chiropractic benefits, you should call the Member Services phone number on your insurance card.  For those not covered by insurance or with no chiropractic benefits, people love our affordable cash pay options for individuals and entire families. 
Chiropractors have some of the lowest Malpractice Insurance premiums of any health care providers because of the profession's incredibly safe service history! A thorough examination and x-ray studies (when necessary) are performed on every new patient in our office in order to determine whether the patient is a good candidate for chiropractic care. 
Yes! Chiropractic care is safe during pregnancy. Studies have actually shown that consistent care throughout pregnancy helps decrease labor time on average 31% and creates balance in the pelvis and spine which allows for an easier delivery for mom and baby!   What mom wouldn't want that? 
There is no such thing as a chiropractic addiction but we completely understand the thought!  When our patients realize how great they feel after chiropractic care many want to stick around and maintain that youthful feeling, extra energy and improved level of health.  Just like diet and exercise, vehicles, and your home - all good things in life should be maintained! 
Yes! Chiropractic care is safe for children. Even the most natural childbirths can cause stress to an infant's spine and nervous system.  Every aspect of a newborn's health is assessed after birth except their spine and nervous system! We check babies for nerve irritation and motion restrictions ASAP after birth to ensure their best start to life.
Educational and licensing requirements for Chiropractors are among the most stringent of any of the health care professions.  DC's must attend a nationally accredited, four-year doctoral graduate program, which includes 4,200 hours of classroom, laboratory and clinical internship.  In order to be licensed, a Chiropractor must pass all state and national board exams, a state licensing exam and meet yearly Continuing Education requirements.
Yes, chiropractic offers excellent benefits even after undergoing a spinal surgery. Failed surgeries often leave patients with restricted motion, chronic pain, and few options for management besides medications.   Because adjustments are so safe and gentle, chiropractors are able to work around the surgical sites to restore motion and allow the body to further heal itself.
The period of time it takes for a person to undergo complete healing is approximately 90 days. Physiologically, that's the amount of time it takes for your body to complete a normal breakdown, repair and regeneration cycle.  There are, of course, a number of different factors that affect a person's healing time such as age, degeneration, overall health condition, exercise, diet, and lifestyle.  The doctor's will go over individualized care plans with every patient based on these factors and other similar cases.